Flowers, Foxes and Rabbits.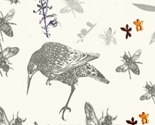 All designs by Jodi Heffernan
Hi, I am an Artist, Printmaker and Teacher with an interest in using hand printed and drawn techniques formatted digitally. The work is inspired by the natural environment. Please feel free to contact me..
Description:
Hand drawn Foxes and Rabits in a forest of flowers.