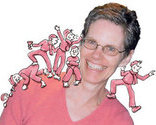 All designs by Susan Barrett Price
Artist and writer, living a secluded life in a log cabin on the shore of Lake Ontario.
Description:
Our faces tell all. We look out from our little boxes and take notice of the world. This collection is full of fun, full of attitude.