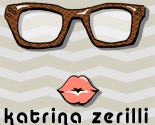 All designs by Katrina Zerilli
Katrina is a full time designer living in sunny Denver, Colorado. She is currently on a small team of amazingly talented designers at Margot Elena Companies & Collections. Her freelance illustrations can be found on Eddie Bauer Baby at Target!
Description:
Simple geometric prints, hand painted and then scanned into Photoshop. I was thinking that these could look nice as skirt fabric, or lining for a purse or jacket.