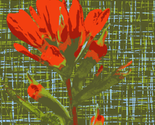 All designs by kelly (weavingmajor)
Yes! Feel free to sell items made with my fabric, wallpaper, and giftwrap - and add photos and links from the fabric to your Etsy or other shop if you wish!
Description:
a soupcon of quadrilaterals for all mathematicians, as well as anyone who hates it when the veggies roll off of the cutting board.