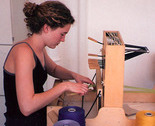 All designs by Eileen Chevalier
When I created my first patterns for a studio project in college, I knew. My future was destined to lie hidden on the inside covers of hardback books. Alas, that is not the 21st century way. My patterns will just have to find a new home...
Description:
Series of snowflake designs created in 2008; put into repeat in 2010. All are my versions of snowflakes based on W. A. Bentley's pictures.