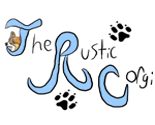 All designs by Welsh S. The Rustic Corgi
Notice: I order swatch samplers of 15-30 new designs approx once a month. Yes, as long as you've purchased the fabric directly from my SF shop (the only place I sell), you may use it in your items for sale at Etsy and elsewhere.
Description:
Pillow panels, stuffed animals, etc.