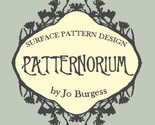 All designs by Jo Burgess
I have recently rebranded myself as Patternorium, I have kept my name as Uzumakijo on here as have many followers, but can be found elsewhere online as Patternorium. If you would like any of my designs in a different size or repeat just drop me a message!
Description:
Entry to the Butterflies restricted palette contest along with other various colourways.