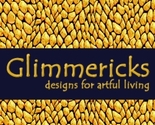 All designs by Pamela Rinehart
Mostly digital art/all originals - do not copy (Copyright Pamela Rinehart - all rights reserved) | YES - you can make/sell anything made with fabric you buy from Spoonflower / NO you may not reprint my designs or print your own - not even samples!!!
Description:
Click "GLIMMERICKS" above to visit my shop. Visit http://www.glimmericks.com/fabric-collections.html for an organized list of all my collections.