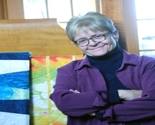 All designs by Rosemary Craig
I've been an artist and designer all my life but didn't discover fabric design until 2008. Since then I've had 4 Collections printed commercially, but have become enamored with Spoonflower and digital reproduction of my work on fabric. I hope you enjoy!
Description:
8 Colorways created from my original painting "The Genesis".