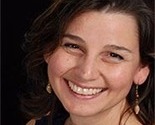 All designs by Katherine McMahon
I often take my inspirations from nature and my travels. I love creating with my own designs and putting my art into functional or wearable art, and I hope you working with my fabric as much as I loved designing it!
Description:
I love the whimsical play dots can have on fabric...and stretched dots, and abstracted dots....