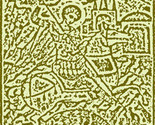 All designs by E. George
I am a scientist with an occasional artistic impulse but no formal training in any kind of art.
Description:
Eikon is Greek for "image", the word from which is derived the English word "icon". It is the word used by St Paul in Colossians to describe Jesus, the second person of the Holy Trinity. Holy Images are a window into the Divine. These fabrics are inspired by traditional Christian iconography of East and West.