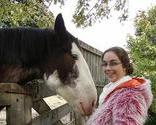 All designs by Claire Neva Brosnan
I love to sew clothing for toddlers and bags for adults. Most of my fabric designs are made with a specific person in mind, although I can't possibly sew everything in this lifetime. I hope other people also like sewing projects with my designs.
Description:
Additional designs that co-ordinate with or compliment designs in Rural Life.