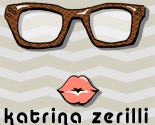 All designs by Katrina Zerilli
Katrina is a full time designer living in sunny Denver, Colorado. She is currently on a small team of amazingly talented designers at Margot Elena Companies & Collections. Her freelance illustrations can be found on Eddie Bauer Baby at Target!
Description:
This collection was influenced by some William Morris tile designs, and named after my Grandma Marie.