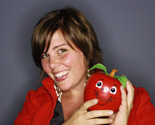 All designs by Kate Butler
I love working with color, texture and organic and unpredictable shapes. I am a gardener, artist, and explorer who loves spending time outside. And, I just happen to work on the Roostery team at Spoonflower.
Description:
A quirky selection of blue designs at different scales handpainted with one blue watercolor paint.