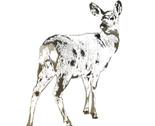 All designs by Peggy Brown
*My designing fabrics began in 2010 when I learned of Spoonflower. My skills have grown with trial, error and opportunity! : ) * My goal has been to have beautiful, Christian fabric for quilting.
Description:
This delightful collection has been created around the rhyme, 'April showers bring May flowers'. The focal design is a young girl with her umbrella standing in the rain looking at a field of beautiful spring tulips.