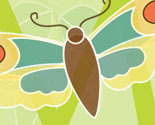 All designs by tamara kate serrao
I love colour & I love pattern. These feed my passion as a package designer, graphic designer & licensed fabric designer. Thanks for stopping by.
Description:
Collection Description: A summer's day in a land of winged creatures. Some enjoy using their appendages ... others just couldn't be bothered!