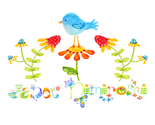 All designs by Janet Nimiroski
I am a freelance Textile Designer and Illustrator. I love creating fun, colorful designs for all ages. All designs are available for licensing/purchasing. Please feel free to contact me for special orders, color or size changes. Thanks!
Description:
A silly little group to remind you of when you were 4 and your "buddie's" were the most fun!