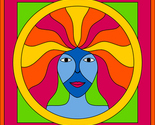 All designs by Leah Day
I love to free motion quilt, and my goal as a designer is to create cheater cloth fabrics that make this craft easier to learn. I offer several panels you can quilt as a solid unit, or cut apart to create Quilt-As-You-Go style. Let's go quilt!
Description:
Learn loads about free motion quilting on this collection of printed fabric panels that will be easy to quilt on your home sewing machine!