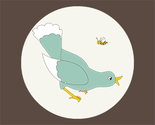 All designs by Isabella P.
Designs 'Inscribed here... by Isabella P.' are available from Spoonflower for personal and commercial use. Please message me if you would like to have colours or sizes adjusted. All designs © Isabella P., All Rights Reserved.
Description:
Designs in the Large Scale Botanicals restricted palette, including my entry for the competition, as well as variations of my competition entry, in more realistic colours.