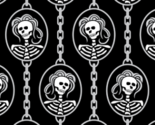 All designs by Tara Crowley
Awesome fabrics for an awesome life; my art on fabric here on Spoonflower.
Description:
All creative Halloween inspired fabrics created by artist Tara Crowley. Typically bright colors including orange, yellow, green, purple, and bright blue. And of course all ghostly shades. Patterns in motley, checkerboard squares, and odd repeats.