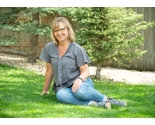 All designs by Cindy Eisbrenner
Hello fellow creatives! I would love to see your creations. Please feel free to share what you are working on.
Description:
Inspired by the garden emerging from its winter slumber, this collection nods to the muted colours of early spring. As the earth wraps the cool air in warmth, life begins to stir, and subtle colours appear. Soft perennial flowers emerge, birds nest, and hope surfaces. Spring charges my soul, and the world overflows with potential.