Project Selvage: If By Ocean...
18 designs by ttoz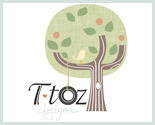 All designs by Drea Roman
I am an Arch Drafter, Designer, and fabric hoarder, er, I mean enthusiast. Now I am officially addicted to Spoonflower!:) If you would like different colors, scaling or custom work, please feel free to contact me! Design work © Ttoz Designs
Description:
Fabric Collection designed for the Project Selvage challenge... plus some extra coordinates to round out your fabric stash:). To read more about this collection, you can find me HERE. Made with baby boys in mind, but is also a great gender-neutral choice.