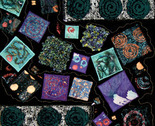 All designs by Stella Sexmith
Fiber Art: I paint, dye fabric, discharge fabric, paint on fabric, make small monoprints using fibers, sew my own and others' fabrics (but not quilts) and knit a lot. I hang out at high end craft shows when I can. Sometimes I read and sleep.
Description:
A collection of designs based on hand-dyed fabrics. Some are original colors, others have been slightly changed. I usually do hand-dying in the summer when it's warm outside.