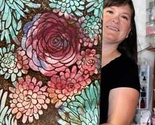 All designs by Bethany Ogle
Amborela surface patterns are created by painter/illustrator, Bethany Ogle. Love to see what you've made! Tag on instagram #amborela. Mix and match from "designed collections" to coordinate fabrics for your next project.
Description:
Collection of winter fabrics celebrating the flavor of gingerbread that tastes so good in cold, snowy weather. Includes dog bed fabrics, family pajama fabric, borders, and mix and match coordinates for Christmas holiday crafting.