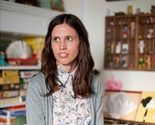 All designs by Marie Gardeski
I'm an artist & I love making my drawings & doodles into sweet/silly/strange fabric designs. Please remember to give credit if you sell items made from my designs. All designs © Marie Gardeski.
Description:
Originally designed for my artwork/installation: "Fear in the Forest: When Push Comes to Shove" from small pen and watercolor sketches.