You're So Vain! You Probably Think This Collect...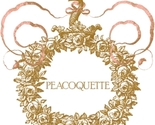 All designs by Sarah Mason Walden
Historically accurate reproductions from antique sources is my specialty, but I'm often inspired to reimagine them as exciting contemporary prints. Customization & licensing available. As seen in Apt Therapy, HGTV, Redbook, Vogue Italia, LA Times, BBC
Description:
A peacock feather on a charcoal background reduced to a teal, light grey, chartreuse, and robin's egg blue. Several coordinates in these colors. More upon request. Find the same pattern in different colorways in You're So Vain, Too!