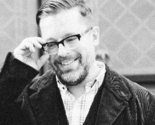 All designs by Robert Mahar
Robert Mahar is an artist and designer who teaches imaginative crafts and do-it-yourself projects through online video tutorials and in-person workshops.
Description:
Coming soon to Spoonflower's 2021 Craft Friday! Join me on, Robert Mahar, November 26, for a free video tutorial (on Spoonflower Instagram Reels) showing you how to transform these fat quarters into a simple and stylish way to display your holiday cards!