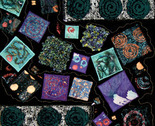 All designs by Stella Sexmith
Fiber Art: I paint, dye fabric, discharge fabric, paint on fabric, make small monoprints using fibers, sew my own and others' fabrics (but not quilts) and knit a lot. I hang out at high end craft shows when I can. Sometimes I read and sleep.
Description:
Watercolors These are all hand painted and "cleaned up" digitally. I am not a watercolorist and do not claim to be, but I love bright colors and graphic designs. Since I use pure colors from the same set of paints for all of these, the fabrics work well with each other. I hope that you enjoy them as much as I enjoy making the small framed originals I have in my home.