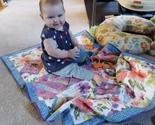 All designs by Deborah Lynn Bielski
I've always been artistic, love to sketch, color, sew and make cards. I am a quilter who loves to design her own patterns and who naturally loves fabric. My profile picture has my 9th grandchild sitting on the quilt I made for her.
Description:
Flowers, some with my grandkid's names on them.