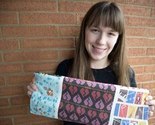 All designs by Lauren Suter
I'm a commercial photographer and graphic designer. I designed my first fabric to create bedding set for my son and have been hooked ever since! Thanks for visiting my shop!
Description:
I drew these dinosaurs for my son's nursery. I printed the 'original' design to make his bedding and have now expanded the design into a full collection! These are all Large-scale repeats designs.