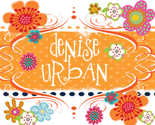 All designs by Denise Urban
No one would ever call me a minimalist. I love putting diverse patterns together. I'm an eclectic artist whose creative curiosity is insatiable. I'm passionate about color, pattern texture and fabric.
Description:
Just in time for springtime comes the release of collection 'Eggcited!' A new collection from Urbandigits. A whimsical mix of contemporary and traditional pop flowers, animated easter eggs and bright patterned backgrounds.