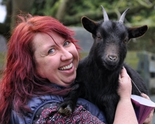 All designs by Painting Goat
I absolutely love the idea that I can turn my art into a design that can be worn or displayed as home décor. I love to experiment but my overall theme is colour....can you tell? Thanks for visiting.
Description:
The Blue Tropics design came from the Design Challenge which inspired me to make a whole collection. I've since added more tropical designs from other collections.