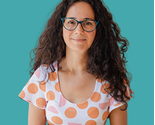 All designs by Agnes Somogyi
I am a textile designer and apparel pattern maker based in Mallorca. I love creating vibrant and bold patterns. If you want to share your makes with me or you want to know what am I working on recently, find me on Instagram:
Description:
A collection of different watercolor textures which combines well with each other.