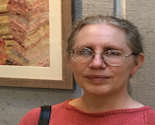 All designs by Deborah Eater
Fine artist (DeborahEater.com) with an insatiable appetite for pattern.
Description:
Simple geometric designs -- stripes, plaids, and checks -- and variations on them. Many of the pattern repeats are quite small, producing subtle fabric variations. Designs are grouped into families containing the same colors for easy matching, and the entire collection uses a similar range of colors to be completely compatible with one another and intermixable.