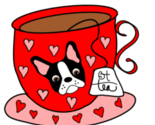 All designs by Melissa Quintana-Mitchell
I'm Boston Terrier momma of two and a lover of all! 100% self taught and often doodle with Duke on my lap, Daisy snoring away on the couch (the BTs) and Diablo the cat sneaking around.
Description:
Actual color may vary on the available fabric choices. Please consider ordering a swatch. My designs can be scaled down by request. Design credit would be appreciated - Missy Q at www.spoonflower.com/profiles/missyq when selling items from my designs. Thank you.