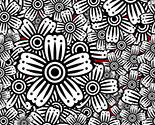 All designs by Chad Baker
I've been a digital artist and designer since 1994. My artwork has been featured everywhere from Superbowl commercials to the cover of TIME. I'm creating patterns for Spoonflower because I enjoy it.
Description:
A series of designs based on an antique candy dish illustration of a bee. Remixed and reinterpreted into modern designs.