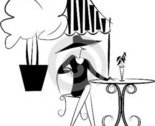 All designs by Patti Serafine
There's a rumor I'm a "Boomer". but I can't believe it's true! I wake up in the morning feeling like I'm twenty-two! Color and design are linked to everything I see... and now because of Spoonflower, my dreams... reality!
Description:
Hand-drawn designs that are unchanged; printed as drawn. Colors only vary from original.