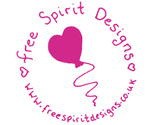 All designs by Natalie Butterworth
I am a designer/maker with a passion for fresh, colourful and love inspired design. I use my fabrics to make cushions, lavender pillows, tea cosies and lots more! They also coordinate with my range of ceramics.
Description:
Inspired by a beautiful rose garden in full bloom, the colour palette is deep pink, baby pink, white and pale green.