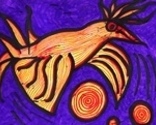 All designs by Sarah Loft
I am a mother of four and grandmother of three. I enjoy doing all sorts of art work, designing, and photography. I love textiles and recall one of my earliest art projects involved painting on cloth. I hope you enjoy the designs I have posted here.
Description:
The Braided Paper designs are inspired by Spanish Mosaics. They begain, literally, as strips of magazine paper braided into long ribbons, looped into a variety of shapes, and scanned into the computer for further manipulation.