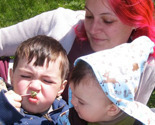 All designs by katie lukas
I've got three boys and I make a lot of stuff.
Description:
My son will not wear anything other than "cozy pants." Hence, despite how much I love them, real tweeds and woolens are not an option. So, I decided to put together a collection of tweed patterns for knit; now we can make tweedy-looking clothes a kid will actually wear.