Merry Christmas. Holiday time.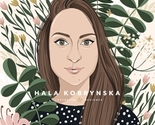 All designs by Hala Kobrynska
Hi! I'm an illustrator and graphic designer with a passion for simplicity, clean style and vivid colours. All patterns available for license. Contact me: halakobrynska@gmail.com
Description:
Unique patterns with Christmas lights, tangerines, and clementine, Christmas tree toys, Christmas cookies, Gingerbread, Christmas gifts, cozy socks, a cute pug with reindeer ears in the festive mood.