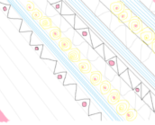 All designs by Vasudha Joshi
Doodling, drawing and painting, embroidery are great stress busters. Converting them into textile prints feels so rewarding. Combining swatches of these prints into old and new quilt patterns is even more rewarding. I hope viewers feel the same.
Description:
somehow prints in this collection cohere. swatches of prints in this collection will be ideal for quilts, as table cloths/ bed covers and borders.