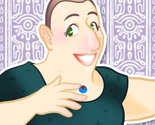 All designs by Jade Gordon
Special request info: goo.gl/NSNWAQ RESPECT MY COPYRIGHTED ART! THIS IS NOT STOCK ART, NOT PUBLIC DOMAIN! Contact Spoonflower for customer service re: fabrics & printing, but me re: my designs. Advice: When in doubt, Swatch!
Description:
My set of kitchen fabrics with an apron, a tea towel & coordinating designs. Strawberry themed designs!