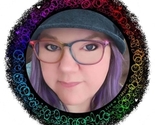 All designs by Kim Niles
Contemporary PUP Artist, Kim Niles. When making/selling items from my fabric, tag me on Instagram (@KiniArt), so I can see and share them! All Designs © Kim Niles, KiniArt™ - All Rights Reserved.
Description:
Non-animal designs - some of which were created to compliment animal-theme designs; created by Kim Niles of KiniArt.com.