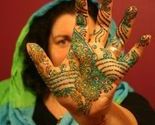 All designs by Min White
I loooooooove fabric! I'm a henna artist, a Zentangler, creative workshop tutor, and school librarian on the side. Eclectic tastes, but LOVE LOVE LOVE Pasifika style.
Description:
The intricacy of , and the lovely focusing effect of practicing , really get my creative side humming.