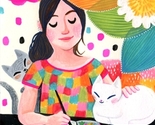 All designs by Miriam Bos
I'm a illustrator and designer based in the Netherlands. You make me super happy when you purchase my designs. Especially when you share your creations and credit me. Thanks so much for that. I love to see what you make!
Description:
Designs with cheerful children.