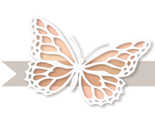 All designs by Alice Frenz
I'm a full-time teacher, part-time artist and designer. I learned my love of sewing and needlework as a child from my mom and grandmothers. My greatest desire and reward is in creating designs that are meaningful to others.
Description:
Green ribbons and colorful butterflies for hope, courage and support. May is Mental Health Awareness Month.