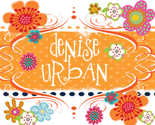 All designs by Denise Urban
No one would ever call me a minimalist. I love putting diverse patterns together. I'm an eclectic artist whose creative curiosity is insatiable. I'm passionate about color, pattern texture and fabric.
Description:
These beautiful Sweet Christmas Cupcakes definitely bring the Christmas Spirit! With a Peppermint Cream Cheese Buttercream, edible glitter and beautiful sugar star cookies, these cupcakes scream winter wonderland!