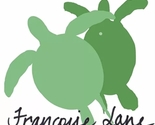 All designs by Francoise Lane
Francoise Lane is a Torres Strait Islander who identifies as both Meriam and Kaurareg (Australian First People). Her work is inspired by family, connection to country and the plants and animals of Tropical Queensland.
Description:
There was a time when an aunt had placed a clam on the reef out near my Nene's place on Hammond Island. When coming to shore in the dinghi I would look at this clam and wonder why she did this. As an adult I have snorkled on the reefs outside of Cairns admiring the beauty of the giant clams.