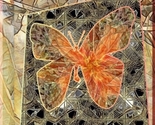 All designs by Margaret Miller
I live in Southwest Virginia; a beautiful region called the New River Valley. Am a USN veterans. I like taking photos of my surroundings and pets. In many instances they are my inspiration or serve as the 1st step in my creative process.
Description:
Soft hues to uplift you as we emerge from a Blackhorn Winter to the passion of Summer Solstice.